One software solution secures & protects your data
Cibecs is a single, complete end user data protection solution, offering businesses a single, integrated solution built from the ground up for simple, secure & complete business data protection and data loss prevention.
Simplified Powerful Encryption
Cibecs gives IT administrators encryption & complete central data loss prevention control, preventing any unauthorized access to confidential data on lost or stolen devices.
Cibecs device encryption leverages built-in technology. Selective real-time encryption of backed up files and folders eliminates heavy, full-disk encryption. Automatic encryption and decryption of data simplifies data protection for IT.  Cibecs is a turnkey solution providing backup, protection and encryption.
Remote Wipe
Destroy access to lost or stolen confidential data on laptops or desktops with Cibecs Remote Wipe. IT can remotely delete any files on any protected machine if lost, stolen or compromised.
Mitigates the risk of industrial espionage and unauthorised access to confidential business files.
Revoke Access
The data loss prevention feature allows IT managers to revoke access to encryption keys if users do not access their profiles in a set period or on an ad-hoc basis. With the revoke feature Cibecs keeps business data secure and only accessible to the right people.
Enabled in the Cibecs Control Centre during the policy configuration phase.
Agent will automatically revoke encryption certificate if the computer has not connected to the network for the defined period of time.
Agent is automatically placed in compromised state disabling backup and recovery.
Integrated certificate management allows access to be easily granted in the event of an erroneous revoke.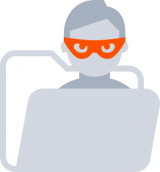 Data Theft Prevention
Cibecs provides proactive Data Theft Prevention. Enhanced visibility and control empowers IT managers and organisations to work mobiley and share data with confidence. Data remains accessible and secure whenever and wherever it is needed.
Geo-Locate
When a device is lost or stolen, IT is able to locate it quickly & easily. IT can track the location of any protected device for quick recovery or remote wipe, increasing the chances of recovering your device and the confidential data on it.
Google Maps interface provides details such as street city, and country
Displays the last-known IP address of every device
Cibecs geo-location tracking is accurate within 10-20 meters
Centrally Managed Security
The Cibecs centralised dashboard allows IT managers to manage endpoint data security from one centralized point regardless of the size of the organisation or how dispersed users are. Integrated security certificate management allows full control and security over who is able to access data.
This also allows central reporting and monitoring of DLP.